Julie

 

Schram

, Ph.D.
Assistant Professor of Animal Physiology
Juneau Campus: Anderson Bldg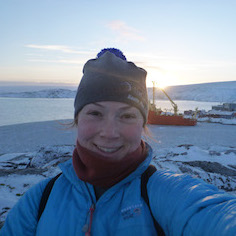 Education:
Ph.D Biology, University of Alabama at Birmingham (2015)
M.S. Biology , University of Alabama at Birmingham (2010)
B.S. Biology, Western Washington University (2004)
Research:
Ecophysiology
Invertebrate and seaweed physiology
Trophic ecology
Chemical ecology
Ocean warming and acidification
Marine heatwaves
Publications:
Schram JB, Sorensen HL, Brodeur RD, Galloway AWE, Sutherland KR (2020) Abundance, distribution, and feeding ecology of Pyrosoma atlanticum in the Northern California Current. Mar Ecol Prog Ser 651:97-110. DOI: https://doi.org/10.3354/meps13465
Galloway AWE, von Dassow G, Schram JB, Klinger T, Hill TM, Lowe AT, Chan F, Yoshioka RM, Kroeker KJ (2020) Ghost factors of laboratory carbonate chemistry are haunting our experiments. Biol Bull 239 (3) DOI: https://doi.org/10.1086/711242
Thomas M, Schram JB, Clark-Henry Z*, Shanks A, Galloway, AWE (2020) Juvenile Dungeness crabs (Metacarcinus magister) selectively integrate and modify the fatty acids of their experimental diets. Phil Trans B. DOI: http://dx.doi.org/10.1098/rstb.2020.0038
Schram, JB, Amsler, CD, McClintock, JB (2019) Contrasting chemotactic escape responses of the common Antarctic gastropod Margarella antarctica to four species of sympatric sea stars. Polar Science. DOI: https://doi.org/10.1016/j.polar.2019.100486
Schram, JB, Amsler, MO, Galloway, AWE, Amsler, CD, McClintock, JB (2019) Fatty acid trophic transfer of Antarctic algae to a sympatric amphipod consumer. Antarctic Science, 1-2. DOI: https://doi.org/10.1017/S0954102019000397
Yoshioka, RM, Schram, JB, Galloway, AWE (2019) Eelgrass pathogen Labyrinthula zosterae synthesizes essential fatty acids. Diseases of Aquatic Organisms 135, 89-95. DOI: https://doi.org/10.3354/dao03382
Dethier, MN, Hoins, G*, Kobelt, J•, Lowe, AT, Galloway, AWE, Schram, JB, Raymore, M, Duggins DO (2019) Feces as food: The nutritional value of urchin feces and implications for benthic food webs. J Exp Mar Biol Ecol 514, 95-102. DOI: doi.org/10.1016/j.jembe.2019.03.016
Hakim, JA, Schram JB, Galloway AWE, Morrow CD, Crowley MR, Watts SA, Bej AK (2019) The Purple Sea Urchin Strongylocentrotus purpuratus Demonstrates a Compartmentalization of Gut Bacterial Microbiota, Predictive Functional Attributes, and Taxonomic Co-Occurrence. Microorganisms 7, 35. DOI: 10.3390/microorganisms7020035
*indicate undergraduate co-authors
Affiliations:
American Society of Naturalists (2013 – Present)
Coastal & Estuarine Research Federation (2019 – Present)
Ecological Society of America (2013 – Present)
Phycological Society of America (2020 – Present)
Society for Integrative & Comparative Biology (2011 - Present)
Sigma Xi (2012 - Present)
Courses Taught:
Biol 103 Biology and Society
Biol 305 Invertebrate Zoology
Biol 310 Animal Physiology
Biol 410 Physiology of Marine Animals
Biography:
I am an integrative biologist with an interest in how environmental factors influence organismal physiology and trophic ecology. I am currently working on projects that utilize biomarkers such as fatty acids and stable isotopes to investigate interactions between primary producers and consumers. My research has focused on the effects of ocean acidification, the reduction in seawater pH due to the increased absorption of atmospheric carbon dioxide, on benthic invertebrates, from tropical and temperate to polar systems.
One of my primary areas of interest is focused on the effects of ocean acidification on benthic communities and as such have worked on research projects investigating the effects of the combined stressors of ocean acidification, seawater warming, and diet quality on a suite of Antarctic invertebrates and benthic community ecological interactions within invertebrate-macroalgal assemblages. As part of these studies, I have become interested in observing and documenting the natural variations currently experienced by marine organisms.
Hours:
Tuesday/Thursday 1-4 pm