Lisa

 

Hoferkamp

, Ph.D.
Associate Professor of Chemistry

 
Arts and Sciences - Natural Sciences

907-796-6447 (Fax)
Juneau Campus: Anderson Bldg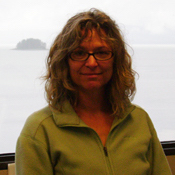 Education:
National Research Council Postdoctoral Fellow, National Exposure Research Laboratory - USEPA, Athens, GA
Kinetic studies of the anaerobic attenuation of munitions compounds
Ph.D., Inorganic Chemistry, University of Neuchâtel, Neuchâtel, Switzerland Synthesis and X-ray structural characterization of catalytically active transition metal clusters
M.S., Inorganic Chemistry, Florida State University, Tallahassee, FL Development of polymer modified electrode surfaces derived from Ni(II) and Cu(II) complexes
B.S., Chemistry, University of Idaho, Moscow, ID
Research:
Study of the natural environment from a chemical viewpoint offers fascinating research topics ranging from basic research on poorly understood natural processes to applied research investigating the effects of human activities on various ecosystems and remediation efforts. The pristine system of forests and waterways proximate to the University of Alaska Southeast are ideal natural laboratories for these types of studies.
My research centers on the transport, deposition and attenuation of heavy metal and organic pollutants in high latitude environments. Heavy metal studies in my lab include characterization of the iron, lead and copper species associated with high organic carbon soils under anaerobic conditions.  An increasing presence of ocean-going vessels at Alaskan ports has also raised concern about environmental levels of tin.  The chemical interactions of tin with environmental matrices (e.g. microbial communities) profoundly influence its mobility and toxicity.   These metals have become common features of the southeastern Alaska topography and identifying the specific form of these metals under various environmental conditions provides valuable insight into their transport properties. Organic pollutants, on the other hand, are typically associated with industrialized areas and as such have limited local sources at higher latitudes. Atmospheric transport and to some extent urbanization however, have provided for detectable levels of numerous synthetic organic chemicals in the arctic hydrosphere, lithosphere and biosphere. Studies aimed at quantifying levels of organic pollutants and their attenuation products in high latitude regions are also pursued in my laboratory. Of particular interest to me are halogenated organic contaminants and their redox chemistry in the environment.  Once these pollutants reach higher latitudes, I study their transformations as they interact with the abiotic and biotic environment of southeastern Alaska and how the contaminant's environmental impact is controlled by those interactions.  Both heavy metal and organic pollutant studies involve the use of state of the art analytical instrumentation including atomic absorption spectrometry and mass spectrometry. Collaborations with the University of Alaska Anchorage, the University of Alaska Fairbanks and University of Alaska Southeast biologists continue to support and strengthen my contaminant studies. In addition to contaminant studies, I conduct ongoing research into the habitat remediation and restoration potential of created wetlands. Collaborative efforts with the National Marine Fisheries Service and the U.S. Department of Fish and Wildlife have led to the development and continued study of two created wetlands in the Mendenhall valley. Results from this project have shown these landscape features serve as moderators of groundwater intrusion and stormwater runoff, provide for carbon sequestration and contaminant retention and allow for significantly improved habitat. All of my research projects at the University of Alaska Southeast have benefited from the contributions of my undergraduate research assistants.
Publications:
Current Use Pesticides in Arctic media; 2000 – 2007", L. Hoferkamp, M. H. Hermanson, D. C. G. Muir, Science of the Total Environment, 2009, in press.

"Long-Term Changes in Imposex Frequency in File Dogwinkles, Nucella lima G. and Tributyltin Concentrations in Bay Mussels, Mytilus trossulus G.", D. T. Tallmon, L. A. Hoferkamp, Bulletin of Environmental Contamination and Toxicology, 2009, 83(2), 235.

"Major solutes, metals, and alkylated aromatic compounds in high-latitude maritime snowpacks near the trans-Alaska pipeline terminal, Valdez, Alaska", J. P. Bower, E. A. Hood, L. A. Hoferkamp, Environmental Research Letters, 2008, 3(4), pp. 045010.
"Nitroaromatic Reduction Kinetics as a Function of Dominant Terminal Electron Acceptor in Natural Sediments", L.A. Hoferkamp, E.J. Weber, 2006, Environ. Sci. Technol., 40(7), 2206-2212.
"Reactivity of Chemical Reductants as a Function of Redox Zonation", E.J. Weber; J.F. Kenneke, L.A. Hoferkamp; U.S. Environmental Protection Agency, National Exposure Research Laboratory, Athens, Georgia USA; Groundwater Quality: Natural and Enhanced Restoration of Groundwater Pollution (Proceedings of the Groundwater Quality 2001 Conference, Sheffield, UK, June 2001). IAHS Publ. no 275, 2002, pp.113-118.
"Cluster Chemistry with Sulfur-Containing Ligands: Reactions of the Hexanuclear Cluster (m2-H)Ru6(CO)16(m5-S)(m3,h2-SCNHPhNPh)". L. Hoferkamp, G. Rheinwald, H. Stoeckli-Evans, G. Süss-Fink, Organometallics, 1996, 15, 1122.
"Reactions of Tris[bis(trimethylsilyl)amino]aluminum with Ammonia and Pyrolysis Studies." K.J.L. Paciorek, J.H. Nakahara, L.A. Hoferkamp, C. George, J.L. Flippen-Anderson, R. Gilardi, W.R. Schmidt, Chem. Matl., 1991, 3, 82.
Presentations:
"Polybrominated Diphenyl Ethers in Sediments From a Pristine Southeast AlaskaWatershed and Near a Municipal Waste Landfill", Lisa A. Hoferkamp*, Sherry L. Tamone, June, 61st Northwest Regional meeting of the American Chemical Society, Reno, NV, 2006.
"A Comparison of Water Quality Parameters in two Southeast Alaska Salmon Streams", Mathew Nelson*, Lisa A. Hoferkamp, 60th Northwest Regional Meeting of the American Chemical Society, Fairbanks, AK, 2005.
Courses Taught:
The chemistry courses that I teach at the University of Alaska Southeast include general, organic and environmental chemistry.
The laboratory portion of Environmental Chemistry focuses on analytical methods used in environmental analyses.
The UAS Natural Science department is well equipped for gas and liquid chromatography, mass spectrometry, atomic absorption spectrometry and ultraviolet, visible and infrared spectroscopy. I have taught Special Topics courses on contaminant attenuation in the natural environment and wetland chemistry. All of these courses provide valuable insight into natural processes and provide a foundation for understanding natural systems and the impacts of contemporary societies on those systems.
Lower Division:
CHEM 103 - Introduction to Chemistry I
CHEM 105 - General Chemistry I
CHEM 106 - General Chemistry II
CHEM 193 - ST: Chemistry Recitation
CHEM 297 - IS: Chem Lab
CHEM 397 - IS: Chemical Research
Upper Division:
CHEM 341 - Organic and Biological Chemistry I
CHEM 450 - Environmental Chemistry
CHEM 497 - IS: Environmental Chemistry
ENVS 491 - Environmental Science Internship
ENVS 492 - Seminar: Contaminant Attenuation in Natural Systems
ENVS 498 - Research in Environmental Science
ENVS 498 - Research: Mobility of Metals