Richard

 

A.

 

Caulfield

, Ph.D.
Chancellor Emeritus, University of Alaska Southeast
Juneau Campus: Hendrickson Bldg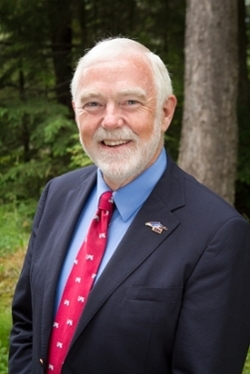 Biography:
Dr. Richard Caulfield served as Chancellor at UAS from 2015 to 2020, retiring after service to the University of Alaska for 35 years. 
Chancellor Caulfield's experience with the University of Alaska began in Fairbanks in 1977 as a research associate with the Cooperative Park Studies Unit and the Alaska Department of Fish and Game, Division of Subsistence as a Resource Specialist II.  In those positions he published several reports on Alaska Native subsistence use in the Upper Yukon region of the state. He earned a Master's degree in Education and a teaching certificate in Secondary Education from UAF in 1983. He served as an Assistant/Associate Professor & Coordinator of UAF's Rural Development Program, Bristol Bay Campus in Dillingham prior to beginning his doctorate program with the University of East Anglia, Norwich, United Kingdom in 1988. He conducted his doctoral research on aboriginal subsistence whaling in Qeqertarsuaq, Greenland, where he and his family lived in 1989 and 1990.
Upon return to Alaska in 1990, Chancellor Caulfield served as a tenured full professor at UAF and Academic Program Head in the Department of Alaska Native and Rural Development. He later took on administrative responsibilities as Associate Dean of Academic Programs and Acting Dean of the College of Rural and Community Development and Dean/Director of UAF's Community and Technical College (formerly UAF Tanana Valley Campus).  In 2010 Caulfield stepped into the role of Provost at the University of Alaska Southeast (UAS) and was then selected to serve as Chancellor in 2015.  His rich experiences have shaped his career and brought grace and energetic advocacy for education to his work at UAS. 
Under Caulfield's leadership as Chancellor, UAS underwent successful re-accreditation with the Northwest Commission of Colleges and Universities (NWCCU), which resulted in five commendations for its inclusivity, its efforts and commitment to student retention and student success, optimization of distance education, and its success at integrating three campus locations into one regional university with shared vision and values. His involvement of Elders and culture bearers has created an extremely important connection with the Alaska Native community, ensuring that UAS is a place of cultural safety and equity.
"The University of Alaska has been a huge part of my life and that of my family here in Alaska. As a graduate of the university, I know firsthand about the quality of its programs. I've seen the importance of the university from many perspectives: as a place of opportunity for academic excellence, research, and workforce development; as a place that transforms the lives of students and contributes to healthy and vibrant communities; and as an institution that shares knowledge about the cultures, languages, and wisdom of Alaska's indigenous peoples with all Alaskans. My sincere hope is that Alaskans continue to value and invest in their university for the benefit of future generations."