Cheyenne Siverly
A Semester at Sea
Location: At Sea
Program: Semester at Sea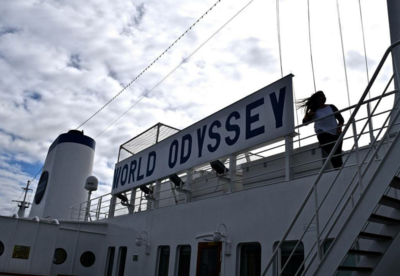 [Semester at Sea] was a voyage ... as academically challenging as emotionally challenging. —Cheyenne Siverly
Last semester, my cafeteria served street food on the side streets of Southeast Asia. My walk to class consisted of getting sprayed by the salt water of the world's oceans. My class lab met in a maternity hospital in Ghana. My classmates commuted from countries around the globe. During breaks, I relieved stress by mediating with monks, hiking on the Great Wall of China, and counting cheetahs in Africa. In the Spring of 2016, I traveled to Hawai'i, Japan, China, Hong Kong, Vietnam, Myanmar, India, Mauritius, South Africa, Ghana, Morocco, and England with Semester at Sea which were, and will continue to be, the best months of my college journey.
Doing a study abroad program will undoubtedly enrich your college experience, but spending a semester sailing around the world will not only alter your college path, but change your entire life. Semester at Sea is unlike any other study abroad. The biggest difference is obvious: you are not staying put in one country. Instead, you are on a ship with hundreds of students from many places around the world, and you are traveling to ten countries in different corners of the globe. You gain a global perspective like no other and become a global citizen all in your twenties. The exhilarating feeling of waking up in a different country each week makes up for it is worth the sacrifice of study abroad in one country. You may not have the same deep understanding of one country, but you'll gain a deeper understanding of yourself.
What you learn about yourself carries with you. Half of my learning was on the ship, a 700-passenger German cruise liner, where the waves would be crashing up to the windows as we sailed into the world's most beautiful seas and oceans. The other half was taking what I learned in the classroom and applying it to the cultural contexts of the countries I visited. In how many classes can you learn about the apartheid era, and then arrive in Cape Town the next day to witness its effects? What kind of university cancels classes to celebrate sailing traditions, while you cross the equator for the first time? Only onboard the M/V World Odyssey.
The questions I am asked the most are as follows: What was your favorite country? Did you have fun? Did you have a good trip? In response, I put a fake smile on my face and give an "elevator speech" but really, I just want to roll my eyes into the back of my head. How on earth can I choose one country? That's like asking if I want to die by drowning or being set on fire or be seasick or have traveler's sickness. I even joked that I need to have "They were all my favorite countries. Yes I had fun. Yes it was a good 'trip'" tattooed on my forehead. I guess to fully understand what I am talking about, you will have study abroad yourself.
By studying abroad, I learned more in four months than in my first years of college. Most of that is in worldwide street smarts, a global perspective, and a compassionate empathy for the world's people. Let's just say I am extremely comfortable showing up in a strange city, not knowing the language, having nowhere to stay, no Wi-Fi, and no familiar food. Everything from avoiding being kidnapped in China to watching my host family slaughter a goat while I'm brushing my teeth in Ghana has taught me more than I could ever learn in a standard classroom.
This was not a cruise. Yes, it is kind of like that TV show the Disney channel aired called The Suite Life on Deck. Yeah, I may have gotten a poolside tan at my university, watched dolphins between classes, and counted flocks of flying fish, but it was so much more than that. It was a voyage. It was as academically challenging as emotionally challenging. With each country I went to, I learned exploration, privilege, devotion, struggle, happiness, and motivation from the teachers I found in people across the world. I got the opportunity to befriend a Kashmiri refugee family in India, struggling to conceal their Muslim religion. I gave a thirsty child in Ghana the last bit of the water I packed with me. I witnessed monks in Myanmar devote their entire being to Buddha. I listened to Arch Bishop Desmond Tutu in person. For the rest of my life, these experiences will carry with me.
Besides world wonders, sunrises and sunsets beyond compare, and the stars of the southern hemisphere, I remember most and will miss the most the people. The people I met in these beautiful countries and the friendships we formed while we traveled changed my life. When I was in Ghana, I learned about the word that perfectly describes this feeling. The word is "Semanhyiya" (pronounced suh-men- she-uh). It means, "What if I never met you?" I do not know what I would be like or where I would be without Semester at Sea. Before I studied abroad, I was told I would change, and I promise you, if you choose to study abroad or even take a short vacation to another country, you will change, completely, and hopefully, catch that wanderlust that will keep you exploring this beautiful earth.