Clair Fitzpatrick
Spring Semester in Spain
Location: Spain
Program: API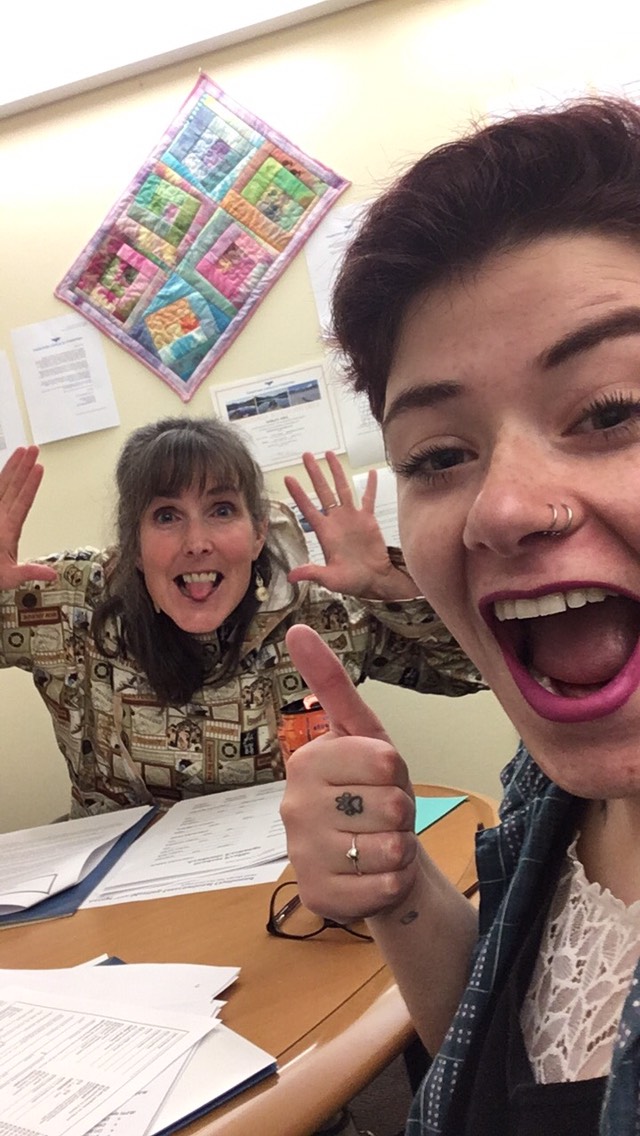 It started out absolutely miserable… that first week in Spain. I had made myself sick with worry and fear, apprehension about living in a new country. I cried on the phone with my parents almost every day. I wanted a plane ticket home immediately. I didn't feel settled. It was all too new and uncomfortable.
Thankfully, the feeling of terrified dread subsided my second week in Sevilla. I gradually turned from feeling anxious and scared to joyous and curious. I began to adventure into the city and try to learn as much as possible. And there was so much to learn! From the language to the culture and history, every day I discovered something new. When classes started and I got more into a routine, I felt right at home.
Sevilla is huge, especially to an Alaskan accustomed to small cities. Much to my surprise, after I got over my initial fear, one of my favorite things to do was walk around the city. My roommate and I found a favorite juice place and bakery. I loved going to the river with classmates to play cards, and there were countless gardens to walk through or read in. I became a regular at a bookstore close to my apartment and at the restaurant around the corner where I would read and have a glass of wine, goof off, and practice my Spanish with the waiter, Pepe.
All my classes at the Universidad de Sevilla were great – so interesting and new. In my Spanish Cuisine class, I learned about the history of Spain; what types of vegetables were brought back from the New World and how pigs have been raised for centuries to achieve the world-famous jamón ibérico. I learned how to make sangria and paella, bull's tail and couscous. In my Painting in Literary Sevilla class, I learned about many famous people before sketching statues of them. My professor took us all over the city to draw different buildings, orange trees, and statues. In my Women in the History of Latin America class, I learned about woman politicians in South America, nuns, and Ana Mendieta. In my Phonetics class, we read an entire book in Spanish.
API also organized many outings for us students; we would all hop on a bus and drive around Spain to visit a new city and learn about the culture and history unique to the area. We got to go to Madrid, Cádiz, and Lisbon, Portugal, to name a few.
At the end of the semester, my dad visited. I loved playing the part of tour guide, to show him around the city that had influenced me so profoundly. I got to take him to the Alcázar, the royal palace of Sevilla, so rich with history that you could see in the walls where Christian and Muslim influence met. We went up la Giralda, the bell tower in Sevilla's cathedral, which at the top gives you an incredible view of the city. We went kayaking on the river Guadalquivir, where we saw the whole city from a different perspective. We ate delectable fish and celebrated into de verano while we were serenaded by an accordionist.
When classes finished, Dad and I went to the Basque Country of Spain to hike for a week on the Camino de Santiago, a trail traditionally taken by Christian pilgrims to visit the tomb of Saint James. Nowadays, there are more walkers like Dad and I who were more interested in seeing the country than achieving religious enlightenment. The diversity of our surroundings was incredible; we got to walk along the Atlantic Ocean, through pastures and past llamas, through tiny cities and into monasteries.
As my first week in Spain, my last week was absolutely miserable. I didn't wanted to leave. I had come to love Sevilla, my classes, my roommate, my host mom. I had made friends. I was comfortable and familiar with the city. I had become more confident in my ability to communicate in Spanish. And as much as I loved every place I visited, Sevilla stole my heart more than anywhere else in this world. The city and my experiences changed and influenced me, in ways I'll always remember. The misery was worth it all.