Ellie Sica
Sienna, Italy Through AHA-International Program
Location: Sienna, Italy
Program: AHA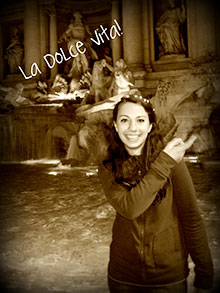 On January 4th, 2009 I left Juneau, Alaska after a five and half hour snow and ice delay on Alaska Airlines. I was praying and thinking one thing to myself the whole time – Please, get me to Portland in order to meet up with my two travel partners. I had never been out of the United States except for my casual drives to Whitehorse, Canada, which usually included my parents. I was now on my own and about to travel thousands of miles to Siena, Italy – my new home and study abroad experience for the next three months.
I had always wanted to go to Italy and on exchange and for various personal reasons, I felt that this would be the perfect time. I visited the Academic Exchange office to speak with Marsha Squires about applying. She was amazing and set me up with all the paperwork and advice I needed. Within a week, I had completed my application and within a month was accepted. I went through another round of paperwork for my visa, housing, course selection, and everything else that was necessary for the program. I was fully enrolled in the AHA-NCSA Winter Quarter 2009 in Siena, Italy, a moderate- sized, medieval, city tucked away in the Tuscan hills just an hour south of Florence.
When we arrived in Siena it was raining – of course, it follows me everywhere. We went through orientation on January 8th, a couple days after we arrived and had slept off the jet lag. I was the only student from Alaska, which is always an automatic conversation starter. As we went through the room introducing ourselves, it was finally my turn.  "Hi, I'm Ellie Sica. I am a Social Science major and I attend the University of Alaska Southeast…" People gawked and made varied noises. "…Uhh, Go Whales!" I exclaimed and threw up my fist in order to break the awkward silence. The room broke out into laughter.
Our group of twenty-four students became close and got together almost every other night. Silvia Minucci and Claudia Todaro (the in-country program directors) were supportive and helped us to feel like a family. Silvia taught our Cross-Cultural Perspectives class, which helped us to understand and accept the differences between American and Italian culture. Geraldine Moreno was the visiting professor from the University of Oregon, who taught both my anthropology-related classes. One was "In Sickness and In Health: A History of Plagues, Illness, and Healing in Italy."  The other was "Food and Culture in Italy." Both required excursions, reflections on excursions and articles related, and mid-term and final essays. We discussed topics in class such as the history of pizza and the effect of the Black Plague on medieval Italy. Sometimes we left class early on Wednesdays to go to the weekly Sienese market.
One of the most rigorous and rewarding classes was my Italian Language class taught by a local Sienese woman, Lucia Rossi. I was lucky enough to have a background in Spanish before I came to Italy because our Italian language classes were conducted ONLY in Italian, even if you were a beginner.
At the end of the week, we went on amazing excursions. Almost every weekend we went to nearby Tuscan towns, farms, and wineries as well as large cities like Florence and Rome. On our free weekends we were permitted to travel on our own or stay in our apartments and enjoy Siena.
I was excited to hear that Carnevale (Italian Mardi Gras) would be in full swing when I was studying in Italy. One of the most memorable experiences was when our group of twenty-four students decided to travel independently to Venice for the festivities. My three roommates and I decided to do as much touring as possible instead of partying it up every night we were there. We hit all the big spots including St. Marc's Cathedral, the Doge's Palace, the Jewish Ghetto, the Rialto Bridge, and the Campanille del San Marco where you can see all of Venice and beyond from a tall tower.
Another experience that I will never forget was when my roommate and I found out we basically had the same birthday. So four of us decided to go to Paris. I had never had the desire to go to France before, but it ended up being one of the best weekends of my life. I can't remember really sitting down at all those three days besides the airplane ride and when we slept. We toured as much as we could and tasted as much as our stomachs could fit. French food and Italian food is absolutely amazing! We ended that weekend by watching the Eiffel Tower light up and sparkle from the top of the Arc du Triomphe. It was hard to leave France, but our adventures in Italy were waiting.
When our classes and program ended, we had a huge dinner together at a local Sienese restaurant. We thanked our coordinators, roommates, and new friends that we would soon have to leave. I decided to travel with a friend for a week after the program to Southern Italy, the area where my family came from. I was excited to see and experience the places I heard of for many years. We went down through Naples and the Amalfi Coast. The people were louder and friendlier down in the south, but you did have to watch out for your wallet a bit more. The food was also fantastic – as if it isn't everywhere. The best part was the pizza, the lemon groves, and the gorgeous Mediterranean coast.
All too soon it was time to return to Juneau and leave the home I had made in Italy. I was torn between my sad feelings for having to leave and my ecstatic feelings for getting to return.
Studying abroad allowed me to expand my horizons and see the Italy I've always dreamed and heard of. While I was there, I had time to reflect and in the end found out that I can do so much with my life. I learned a lot more about my Italian heritage and fell in love with the language. I grew up much more than I thought I would and realized that a little bit of the sweet life or "la dolce vita" is one of the best medicines. I came back a more mature and more capable person. I will always think of Siena as a second home that will welcome me back anytime.