Gloria Lumba
Beyond the Textbook Page: Travels in Ghana
Location: University of Ghana
Program: ISEP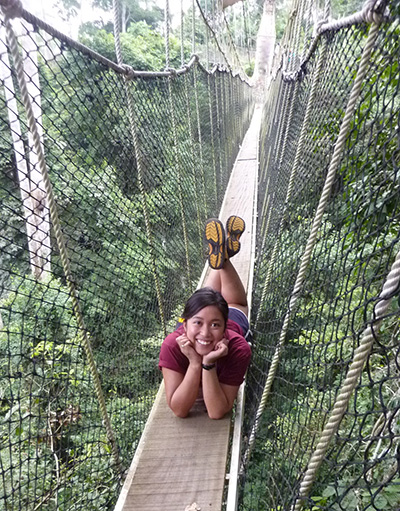 The temperature reads 90 degrees Fahrenheit on the balcony and I've already drunk a liter of bottled water. The Obibinis say, "Foreigner, stick to bottled water and don't drink the sachets until your stomach can handle, you'll get sick."
In the Spring semester of 2011, I studied abroad in a country with different views, practices, and well, climate from Alaska! Even the water was foreign to me. It is hard to summarize a myriad of events that took place in a country so far from what I knew as home. But after the first weeks of adventure, months of culture shock, and a couple of years to contemplate this multitude, I still consider Ghana to be home (at least one of them).
The University of Ghana had so much to offer, on campus and off. I've come to find every waking moment has been a new adventure, a gift, and something I dare not miss. Before attending the University of Ghana in West Africa on the International Student Exchange Program (ISEP-Direct), I spent a semester on National Student Exchange (NSE) in Plattsburgh, New York, and planned a Winter break Euro-trip with my older sister. My mind was already occupied with new events living on the East Coast for the first time and the next set of adventures to Spain and Italy that I could hardly fathom ever coming to Africa. It didn't actually hit me that I was going to spend the next five months in a tropical and Sub-Saharan state until the plane was about to land. The Harmattan trade winds blew clouds of thick red dust to mask the city of Accra, still giving me a timid perception before the plane even landed.
After arriving on campus and getting situated with my sister, we walked the campus which almost seemed like death in the heat. Everything had the most drastic adjustment from the norm, from walking, socializing, and eating, I'm surprised I didn't collapse from heat stroke, or "culture stroke." I remember riding the tro-tros for the first time. Public transportation that could fit twenty passengers was a remarkable way to get around, and a way to get to know people. Obibinis (local Ghanaians) never missed the opportunity to shout out, "Obruni! Obruni!" to a foreigner on the streets or in the market place, or in the tro-tro for that matter. Out of all of the traveling I have done so far, Ghana has been the most open and friendly and not just warm, no, that would be an understatement; their ideas of hospitality were on fire.
I took nine classes that mostly concentrated in Biology: Biodiversity and Conservation, Marine Biology, Oceanography, Environmental Zones of West Africa, Taxonomy and Evolution of Seed Plants, plus African Drumming II and Dance. In my Oceanography Field Course, we spend a week in eight different sites along the entire stretch of coast. From white sand beaches, lagoons, and riverbanks, to mangroves and deep-sea fishing villages, we saw different marine life and interviewed many fishermen of their regions. Sharks on shore missing fins, marlins, tuna, eels, ghost crabs, puffer fish, and sea urchins were just a few we came across in several different environments and climate zones. This hands-on course was an excellent experience, as well as allowed me to bond with classmates then, friends now.
I was also able to volunteer with a non-governmental organization named Global Civic Preservation. Two ISEP members and I traveled north to Bogyawe village and spoke to the head school board and chief to discuss changes in their latrine system. We also helped teach grade school children Mathematics and English, and worked with children in the city of Accra. I also volunteered for a short time at the West African Aids Foundation (WAAF) with a fellow ISEP member and help paint murals with the children using hand prints.
Exposing myself to the academic environment outside of campus as well as the community involvement across regions gave me the opportunity to explore beyond textbook pages and create long-lasting friendships. To name only a few events that have remained substantial in my life does not justify how "awe-inspiring" my study away was in Ghana. From spending my 21st birthday on Busua beach the same weekend Ghana was celebrating their Independence Day (ironically drinking my first beer at the "Alaska Bar and Hotel" on the beach), to traveling West to the Ivory Coast border, Stilt Village, and Ankasa Reserve, to sitting on wild gators close to the borders of Burkina Faso, to examining the skulls of monkeys and buckets filled with chameleons in fetish (voodoo) villages of Togo and Benin of the Vodun religion, I cannot explain to you all of the adventures and mishaps, and the ups and the downs. And more.. the bargaining and the quarries of fresh mango, pineapple, and my favorite mixture of fried yam chips and shito hot sauce. From the local foods of banko and fufu, to their version of spicy spaghetti, their culture of tastes, sounds, touch, and sight erupted my senses. Something I will never forget.
I became a member of community; I was educated, and I educated…this was so enriching. In Ghana, I am considered a friend, a student, a volunteer, and an individual. And after all of the unique and momentous adventures in a country so strange at first, Ghana became a place to call home, rich with unmatched opportunity to learn and grow.