Kaitelyn McDonald
Enrich Your Life: Study Away
Location: Ireland and Austria
Program: NSE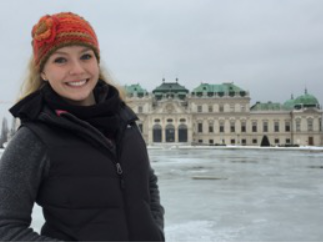 I can say that studying and living in Northern Ireland and Austria was the best thing that I have ever done for myself. I reached every goal that I set out to achieve and so much more than I could have imagined. —Kaitelyn McDonald
Saint Augustine said it well, "The world is a book and those who do not travel read only one page." For me, studying abroad was an ideal way to see and learn about the world and expand my views on how we interact with it and the people in it. Because of this, I decided to take advantage of our university's superb exchange program. In the beginning, I had many concerns about going abroad; my financial status, the application process, the independence required, and cultural barriers were all challenges that I didn't know I could overcome. Before I left, my ultimate goals were to increase my independence and fulfill my desire of learning through experience.
Being in the right mindset, I contacted Marsha Squires, our ever-helpful exchange coordinator, to see if I had what it takes to study abroad. We started off by discussing what country I was interested in, if I wanted to practice a language, and what my general interests were. Initially, I wanted to study in my personal idea of paradise, Greece.
Upon further research, I learned that the International Student Exchange Program (ISEP) universities in Greece didn't have a good program for my major, Biology. To help me narrow down my search, Marsha gave me a flyer specifically targeted to Biology majors that listed universities with good programs. With this as my guide, I decided I would like to study at Ulster University in Coleraine, Northern Ireland.
I knew that I wanted to study abroad for a whole school year, so when I discovered that I had only been accepted to study at Ulster for one semester, I decided to apply to yet another school in Europe: the Technical University in Graz, Austria. I was excited for the opportunity to study abroad and especially to experience the culture of two different countries.
Coleraine, Northern Ireland
The whole orientation process from when I arrived at Ulster in Northern Ireland is a bit of a blur now. I don't remember getting settled in or who I sat by at the orientation dinner. I do remember however, how welcomed I felt to be at Ulster, how beautiful the quaint country was near the seaside, how paranoid the Northern Irish are about fires and meningitis, and how fast each nationality formed their cliques. In the beginning I thought that every person I met would be a close friend, but that didn't turn out to be the case. What I discovered was people from all around the world are surprisingly similar. So it made sense when the different nationalities formed cliques because often we like to be surrounded by what's familiar especially when we are in an unfamiliar place. However, over time we realized just how similar we are to each other and that made us closer to the students we met regardless of where they are from. It is because of this that I now have friends from all over the world. At the same time, I formed close relationships with a core group of friends who I know will be friends for life. They are the friends who I'm sure made my first semester abroad especially memorable and bearable during the times when we needed help to make it through.
There were some interesting and unexpected challenges. For me, adjusting to their school system was the hardest aspect of studying abroad. In Northern Ireland, a full class load is about half the courses I would take at UAS, but each class is worth more credits, so I only needed to take 3 classes to earn 15 credits. The scheduling of classes and the grading system were both extremely different from what I am used to and it was frustrating and hard, but all I had to do to feel better was rant to my friends about my struggles (which they were experiencing as well), and go to the Anchor bar for traditional Irish music night. The memories that I made with my 4 best friends are some of the happiest of my life. I couldn't tell you how many times we danced the night away to Galway Girl, Sweet Caroline, or Country Roads. We traveled to London and Scotland and all around Northern Ireland. To bring back some familiarity to a day in our life abroad, we hosted an American themed party. The party had everything from a mock Constitution to hot dogs to football decorations; no detail was left forgotten. The best part about was at the end of the semester when I was talking to a fellow exchange student from Malta, he thanked me for the party and said it was where he met his closest friends for the semester.
Graz, Austria
Having already completed one semester in Northern Ireland, I felt as though I knew exactly how to handle myself in a new country. There were things that I knew I did well in Coleraine and a list of things that I wanted to do differently to get even more out of my time in Graz. But it wasn't as easy as I had hoped; Austria was culture shock x2. An intensive 3 week German course was how I started the semester. Learning German turned out to be the most enjoyable challenge. It was rewarding to learn something in class and be able to apply it at the grocery store later that day. Learning the language really helped me appreciate my time in Austria because I was able to connect with the locals and show respect to Austrian culture. Due to Austria's central location, I was able to travel to so many countries via train, bus, and even planes with tickets as cheap as $11! I traveled to a total of 20 countries in Europe and over half of those happened when I studied in Austria. Almost every weekend, I took a trip to a new place, or sometimes I revisited countries that I enjoyed. Hopping on a train on a Friday evening, going through three countries, spending a few days touring a new place, and being back at school on Monday morning became my routine. Mastering traveling alone was a huge confidence booster for me. I went from not being able to read a map before leaving home to successfully navigating through cities with public transportation and paper maps. In addition to the traveling, I made so many good friends in Austria. My roommates were a really amazing group of people who had all studied in Graz in the fall as well. This was helpful for me because they were able to give me all kinds of pointers and tips for the city. Aside from my roommates, I became close friends with a Portuguese guy and another American from Vermont. My close friends, my roommates, and all the other students and locals I met in Graz made for an immensely remarkable and memorable semester.
Overall, I can say that studying and living in Northern Ireland and Austria was the best thing that I have ever done for myself. I reached every goal that I set out to achieve and so much more than I could have imagined. I know that it's a cliche, but I can't sum up my exchange experience in two pages of the school newspaper; the experience is truly indescribable. If you are making the decision of whether or not to go abroad, or if you want to but there is something holding you back such as financial difficulties or other personal struggles, all I can say is to go for it. Somethings are hard, but in the end it is a truly incredible experience that is 100% worth the risk. More people should take advantage of study abroad programs in order to engage with the people of the world and be reminded how much more there is out there.