Mitchell Cabrigas
Traveling to San German, Puerto Rico
Location: San German, Puerto Rico
Program: NSE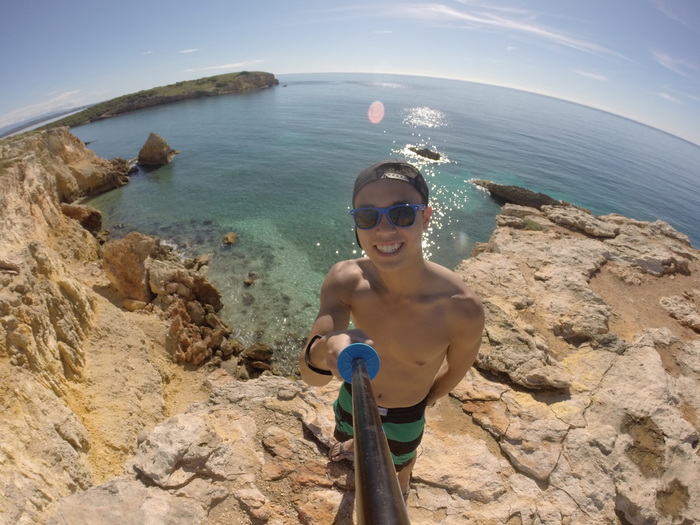 Hello! My name is Mitchell and I had the pleasure of traveling to San German, Puerto Rico for myNational Student Exchange (NSE) experience. I studied there spring semester 2015 to escape the chilly winters we tend to have here in Juneau.
I knew I wanted two things from my exchange: a warm climate and a Spanish speaking location. Puerto Rico just happens to have both as well as a high placement rate for students through the NSE program. So bam, it looks like I was bound for the Island of Enchantment. I was accepted and enrolled in the Interamericana Universidad de San German.
Touchdown! After a four flights to San Juan, the capitol, and a small, six-passenger plane to Mayaguez, the other exchange students and I were greeted by our exchange coordinator. She gave us short details of our living situations and then dropped us off at our dorms. The dorms were separated into different buildings by male and female. There were five exchange students in total. Four of us were from the U.S. and the other was from Brazil.
The first thing I noticed was the HEAT! Like dang, son. I had dreadlocks and I cut them off right before I left knowing it would be quite warm. And oh boy was it a good decision. However, I couldn't prepare for weather like this. I would see other students trotting around with jeans and a jacket and they would complain that it was too cold. TOO COLD?! Bro, you do not know cold until you have done the Polar Plunge in Alaska. But all that being said, I relished in the temperature, and enjoyed a cold shower – sometimes more than once a day!
Now, the language. Ok, I should have practiced speaking Spanish a bit more before I left because honestly, I could only communicate some basic phrases. Puerto Ricans, in addition to talking a thousand miles an hour, commonly drop the 's' sound in certain words. It was difficult at times and many of my interactions transitioned to English after the patient Puerto Rican gave up after my one-minute response times. Did my Spanish improve? Oh yeah... a lot, however, I still wouldn't say that I am totally fluent, but I have a good start and a foundation to work with.
I had four classes and all of them were instructed in Spanish. YES, ALL OF THEM! It was tough to understand the lessons and teachings, but I held my own and did well academically. We had four days of classes, and every week had Fridays off. So that meant the beach had a reoccurring appearance at least once a week. Like I said, I landed in a student's paradise, although, homesickness was real and a #struggle at times.
Overall, I would say my exchange was fun. I mean, I wasn't living to the max every day nor was I bored from dusk until dawn. What I found was a real appreciation for my hometown, and family and dear friends, and I learned about a new location and its culture (politics too). I believe everyone should take advantage of the exchange or study abroad option at least one semester. There is a lot of world out there, team. So hurry up and leave already! You won't regret it!