Rizza Soriano
Greetings from 'Down Under'
Location: Australia
Program: NSE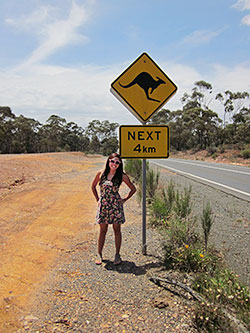 G'day, mate! I'm Rizza, and I attend the University of Alaska Southeast but am currently on a study abroad program in Australia.
I first arrived in Cairns, Queensland, in July for a two-week vacation-like orientation before school started. I went snorkeling around the Great Barrier Reef, got to hold a koala and saw plenty of other Australian animals at a wildlife center. I even tried the ultimate tourist dish, consisting of kangaroo, crocodile, barramundi, and emu. It was the middle of winter, but it was warm enough to wear shorts and a t-shirt.
I now live in the southeast part of Australia in Bendigo, Victoria, populated with about 90,000 people. I attend Latrobe University Bendigo, which has about 4,000 students.
When I first arrived on campus, I was so surprised by how many kangaroos were hopping around. On-campus housing is right next to the bush, so everyone is bound to run into a kangaroo or two. The kangaroos just love to hang out on the soccer field and rest.
I had to quickly get comfortable with the lingo of the Australians. Although many stereotypes of the Australians are fairly accurate, the famous saying, "Put another shrimp on the barbie," is not actually used by Australians at all. Australians say "prawn" instead of "shrimp" and like to barbeque "snags," or sausages.
Christmas Down Under is definitely one experience I will never forget. First of all, December occurs in the summer season here. It was a little hard to get in the Christmas spirit while tanning out in the front yard, but I took it. During Christmas, it's very common for families to go camping on the riverside where they can water ski, fish, float down the river and, of course, drink beer. Christmas traditions are also different. Christmas crackers are essential. These colorful wrapped tubes are pulled open, each containing a colorful paper hat, a joke, and a toy.
So far, my summer in Australia has been an awesome adventure. I have seen snakes sunbathing on the roads while driving and huge Huntsman spiders on the walls. I even experienced a bit of farming, driving a tractor and spraying pesticides. I also made a visit to the local camel farm, where I had the chance to ride the Australian champion for the last 10 years, Old Reggie Boy.
For New Year's Eve, I went to Melbourne, where my friends and I counted down to the new year in front of a big clock in the middle of Federation Square. There were heaps of people that filled the entire block. As soon as the clock hit 12, fireworks filled the sky and the sound of cheering began.
Australia is a beautiful country with fantastic people. It's easy to fall in love with all the unique wildlife and the beautiful scenery. The birds sound sweet and the sun always shines. Despite the natural beauty and landmarks, what stands out the most about this great country is the people. They are always keen to have a good time, with big smiles on their faces and down-to-earth personalities. It is such a laid back and sarcastic culture, and a person has to learn not to take everything personally. One last thing: no matter what the Aussies say, Vegemite does not taste better the more times it's tried.