Getting Started with the Chat Tool
Basic Features
The chat tool is an active chatroom visible to anyone on the page. You have the option of setting this chatroom as a separate page (navigation link) or en embedded chat window. Reviewers, Graders, and Co-authors can contribute, with only Co-authors having full moderator privileges. The layout is straightforward:
System time is displayed in the upper right
You can control which room you're viewing and how far back you wish to see
Moderator controls are at the top, below viewing controls
Active chats are visible in the main window, and you can contribute at the bottom
Active participants are listed on the right, with status toggle icons above
As a moderator you will be able to create Breakout Rooms, Pause, (Manually) Archive and close the Chatroom.
Private messages can be sent to any person on the participant list. Select the individual on the Send to: box in the bottom-right corner of the chat window before sending.  
You can also filter the conversation by time with the Show box in the upper right-hand corner. 
Portfolio Access
You can create conversations by turning on the Chat Tool on a portfolio page. Click the Edit settings link in the upper right-hand corner of the page.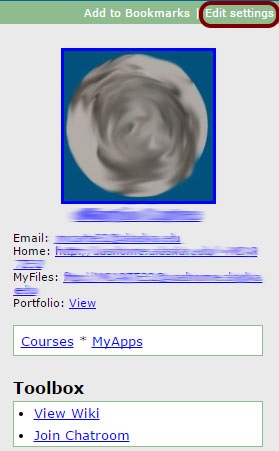 Scroll down to the Chat box, click the checkbox (1, below) and hit save to activate. Choose how it will be displayed (2): a link in the Toolbox (see above) or embedded as a chat window.
3: Be aware that the security settings for your page will control who has access to the Chat.