The Mighty SE&L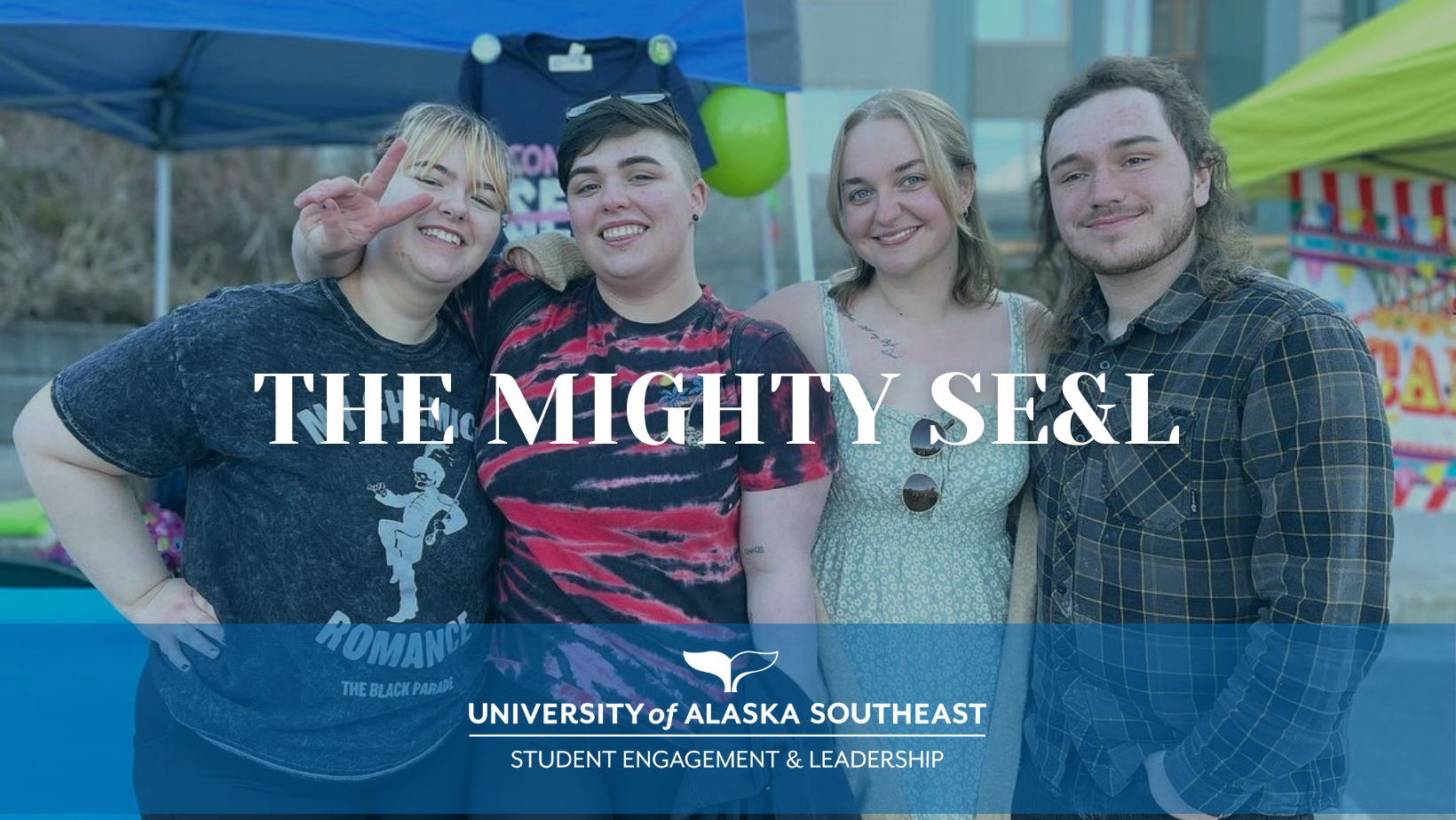 The Mighty SE&L Nominees
Meet SamMi Zelley
Resilient, passionate, and wise; SamMi Zelley has been an active and influential figure in the UAS campus community since her arrival from Boise. Serving as chair of the Environmental Equity & Resource Accessibility Committee in Student Government, SamMi has led valuable work efforts related to our climate and general wellbeing and equity on campus.
Meet Connor Owens
Electric, Scattered and Adventurous; Connor Owens has found a place in Juneau as a community member who answers the call whenever his help may be needed. From his work at the SRC helping students with any and all assistance they may need, to his consistent engagement with campus events and activities, Connor has left his mark by contributing to a bright and colorful energy amongst the student body. Wherever Connor's ambitions may take him, we will be cheering him on every step of the way.
Meet Almeria Alcantra
Compassionate, creative and stylish; Almeria Alcantra has made a striking entrance to the UAS community during their first year at UAS through their work with Student Government, Wooch.Een, the NRSC and the AISES (American Indian Science and Engineering Society) cohort. Almeria has her sights set on working in public policy and tribal advocacy, and if their work at UAS is any indication, we're confident that she'll make a massive impact.


Meet Selah Judge
Strong-willed, passionate and empathetic; Selah works hard here at UAS to develop a strong sense of belonging and community for Indigenous students through her work at the NRSC, as well as her work to organize events such as Fall's Community Feast. Through determination and perseverance, Selah has overcome adversities and built a strong social network for herself in Juneau, and she hopes you will do the same!
Meet Debi Karlik
Sociable, intelligent and hard-working; Debi Karlik has been front and center during campus events since day one. From her volunteer work to help light up John Pugh Hall during the darkest winter days to her electrifying dance moves during the Snow Ball, Debi brings joy and energy everywhere she goes, be it the Writing Center, Gaming Club or anywhere else around campus.
Meet Gianna Angeletti
Kind, outgoing, loyal, social and caring; Gianna is the example of a student leader who ensures others feel safe, welcomed, and a sense of belonging. Gianna is involved in many aspects of Campus Life. From serving as an RA with Residence Life to volunteering with the Student Activities Board, her positive energy resonates with students across

​

campus.
Learn More About The Mighty SE&L Award
The MIghty SE&L nominees will receive:
a featured post on SE&L social and the Weekly Spike
a professional headshot
SAB swag
The Mighty SE&L recipient will receive:
an award plaque, presented at the end of the semester, with an article from The Whalesong
an exclusive article published by the Whalesong about the student's accomplishments
a professional headshot
a gift bundle from a featured business
a featured post on SE&L social and the Weekly Spike
The Mighty SE&L award, a collaborative effort by the Student Activities Board and the Office of Student Engagement & Leadership, highlights the accomplishments of students who are making a positive impact on the Campus Life experience through student involvement opportunities.
Students are nominated through a submission form and then voted on by the Student Activities Board, who select one recipient to receive the award, while highlighting all three students who have made a positive impact on the Campus Life experience.
For the Spring semester, SAB will receive nominations on a monthly basis and award The Mighty SE&L Award to one student each month.
Thank you so much for nominating someone you believe is deserving of The Mighty SE&L Award. Nominate here!
Students, faculty, & staff may nominate students utilizing the nomination form. Each month, the Student Activities Board reviews nominations and selects up to three students who are then voted on to receive the award.