Contact the Writing Center
Mailing Address
The Writing Center
11066 Auke Lake Way
Juneau
,
AK
99801
Mailstop: BE1
Helpful Links
Jessy R. Goodman, B.A., M.F.A. (she/her)
Writing Specialist
View profile and contact info
Elise Tomlinson, M.P.A., M.L.I.S. (she/her)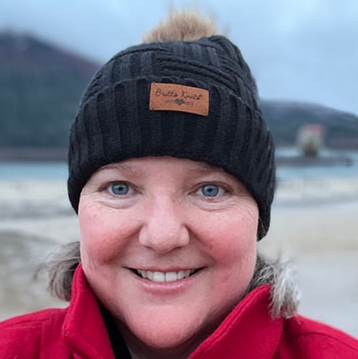 UAS Library Dean, including the Learning, Testing, & Writing Centers, & the Center for Excellence in Learning & Teaching (CELT)
View profile and contact info
Student Tutors
Autumn Daigle

My name is Autumn Daigle, and I am 20 years old. I am earning my BA in English with an emphasis in literature. My lifetime goal is to be a high school English teacher and fish commercially in the summers, so I love writing as well as being outside. When I'm not in the Writing Center, you can find me outside hiking, foraging, or rock climbing. I hope to see you either in the Writing Center or somewhere outside experiencing the beauty of Juneau.

Francesca Johnson

My name is Francesca Johnson! I'm 20 years old and majoring in marine biology with minors in mathematics and environmental science. After I graduate, I hope to do research in marine biology, but I haven't yet decided what I want to focus on yet. There are so many amazing possibilities! But I'd love to be out on some kind of ship, perhaps a sailboat, at least a portion of the time. I've been writing for a long time, and I like to help people along their writing journey; I think it's such a good way of expressing yourself! I love musicals, writing, drawing, painting, working out, reading, and singing. Come join me at the Writing Center for tutoring or a comfortable place to study!

Sophia Gimm

My name is Sophia Gimm, I'm 18 years old, and I'm majoring in English with an emphasis in creative writing. I am super interested in film and television, and I hope to be a screenwriter in the future. In my free time, I love to draw and paint, listen to music, or dabble in some online shopping. I am so excited to be working in the Writing Center, and I hope to offer some help in your classes! 





Don Scalia

My name is Don Scalia. I'm a Marine Biology Major with a minor in Creative Writing. I love to read and write and take huge inspiration from my home in Mississippi. Some of my favorite books include The Namesake by Jhumpa Lahiri, Killing Commendatore by Haruki Murakami, and Middlesex by Jeffrey Eugenides. My challenge to myself is to read more, so I'm currently attempting to read one book a week. Here's a picture of me seeing my favorite group, NCT 127, in concert.

AJ Schultz

Howdy! I'm AJ, I'm 18 years old, and I'm an English major with an emphasis in Creative Writing. I hail from Anchorage, and this is my first year in the bustling metropolis of Juneau! I love all forms of writing, from prose and poetry to TV, film, and music. When I'm not doing my jobs or attending classes, you can find me wandering around Auke Lake and Auke Bay (or anywhere on the trails around campus) or working on personal projects in Egan and Mourant. I'd love to be a screenwriter one day, and my dream goal (if the stars align) is to write for the best work of ongoing fiction of all time, Doctor Who.