Sealaska Honors Tlingit Elder with Matching Gift for Alaska Native Studies Scholarships at UAS
Juneau, Alaska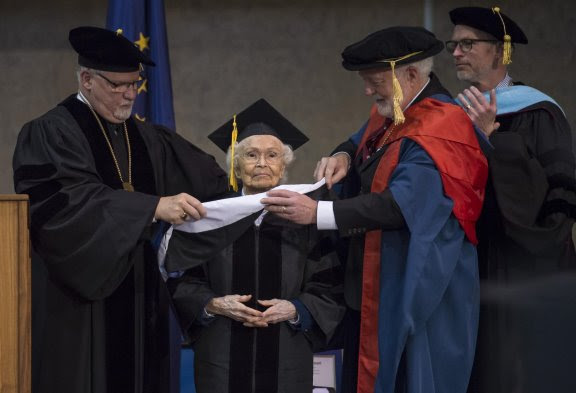 Alaska Native Studies has garnered more support at UAS through a new fund established in honor of Tlingit elder Dr. Kaayistaan Marie Olson. Sealaska is offering a matching challenge to meet the goal of endowing the scholarship fund, which will provide scholarship for students pursuing a degree in Alaska Native Studies.
Sealaska is pledging $10,000 in cash and will match other donors' contributions $1:1 up to $5,000 to endow the Kaayistaan Marie Olson Alaska Native Studies Scholarship, a fund established with an anonymous gift of $5,000. At the $25,000 level, the fund will generate scholarships annually for students enrolled in Alaska Native language, arts, or cultural courses through the Alaska Native Studies Program at UAS.
Sealaska has a long history of investing in education. "This new scholarship is exciting, not only does it honor a very special person in Kaayistaan, but funds will support students pursuing post-secondary education in our traditional homelands," said Sealaska Chair Joe Nelson. "At every level, especially post-secondary, we need more Alaska Native education leaders. I'm proud that UAS has a number of Sealaska shareholders teaching as tenured or tenure-track faculty."
Throughout her own life Dr. Olson overcame cultural repression and sexism to obtain her own education. "I remember coming back to Alaska after graduating high school down south and applying for scholarships through the Bureau of Indian Affairs," said Dr. Olson. "At the time, the only scholarships available to me were for beauty or secretarial school. Now, because of scholarships like the Kaayistaan Marie Olson Alaska Native Studies Scholarship, my hope is that there will be more options for young people."
In 1972, Dr. Olson took her first course at UAS and encouraged Tlingit language be taught at UAS. Since then she has completed two certificate programs and a Bachelor of Liberal Arts degree at UAS. Last May, Marie was awarded an Honorary Doctorate of Humane Letters in recognition of her accomplishments as an Alaska Native leader in education.
Dr. Olson has been an active supporter of the Preparing Indigenous Teachers and Administrators for Alaska's Schools (PITAAS) program, a program guiding Alaska Native students to become teachers and school administrators, and the Native and Rural Student Center (NRSC) at UAS. Through her involvement with Alaska Native students, Marie has touched the lives of many and encouraged Alaska Native students from around the state to complete their education.
"We are very grateful that Sealaska is making this significant donation to the Kaayistaan Marie Olson Alaska Native Studies Scholarship at UAS," says UAS Chancellor Rick Caulfield, Ph.D. "Dr. Olson, an esteemed Elder of the Áak'w K̲wáan, is an inspiring role model for our students and a strong supporter of our university. This scholarship continues her legacy of supporting Alaska Native education."
If you wish to contribute to the Kaayistaan Marie Olson Alaska Native Studies Scholarship and support Native language and studies at UAS, Sealaska will be matching donations $1:1 up to $5,000. You may pay by check written out to the University of Alaska Foundation with "Marie Olson Scholarship" on the memo line and mail to UAS, 11066 Auke Lake Way, Juneau, AK 99801, or you may contribute securely online and designate your support to the Kaayistaan Marie Olson Alaska Native Studies Scholarship.