Set Up and Organize your Online Course
Course Design

Online & Hybrid Teaching
Last modified: August 26, 2022
Use our checklist to account for important course set up and organization features in your own course.
Essential Information to Include
Printable checklist of Best Practices
Online teaching best practices suggest the inclusion of the following elements in your course:
Instructor introduction - This could be a video or a short bio with picture. This helps create instructor presence and builds community.
Contact information and communication preferences/expectations - What is the best way for students to connect with you? How and when will office hours be held?
Course Syllabus - see our page on preparing a syllabus for more help
Course overview - What is this course about? Are there other concepts that students should be familiar with? What major projects should the student expect as part of this course? This information can be included in the syllabus
Technology requirements and support - A statement about the software, hardware, and websites that will be used in the course is helpful for students as they prepare and gather resources. this information can be included in the syllabus.
Typical turnaround time for grading - Let students know what to expect when they submit assignments. This could be included in the syllabus.
Course Schedule - Having a master schedule in your syllabus or posted on an easy to access page of your Blackboard course helps students look ahead. Consistently repeating due dates reinforces expectations and keeps students aware of approching deadlines. 
Getting Started/Start Here - Having a designating starting place for students helps them navigate the course. This is a good place to explain how the Blackboard site is set up and where students can find content and resources.
Organization Strategies
Course Organization should be 
Predictable
Consistent
Easy to Navigate
One way to facilitate an organized course set-up is to make use of folders. Whether you organize by week, chapter, unit, or topic, folders can help you group together content that is related to make it more easy to locate and access. Creating a predictable pattern of how you post content will help students feel less anxious and more successful. Less time and effort spent on finding materials, means more time and effort can be spent on completing the assignments.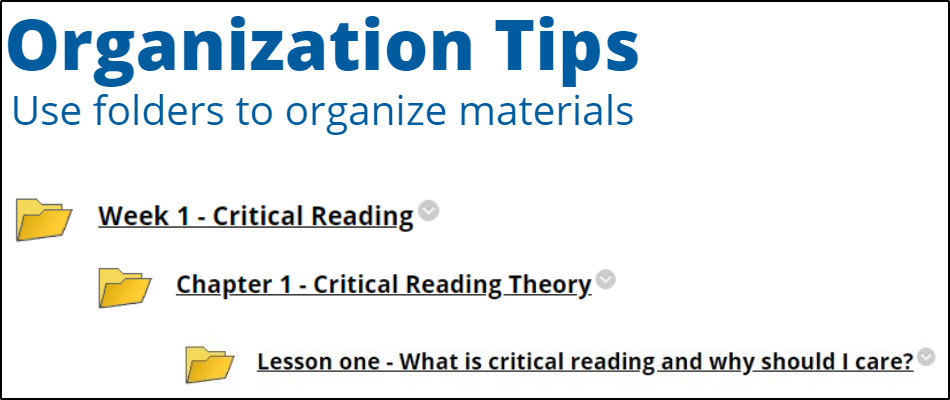 Another way to keep students on the right track is to be consisitent in your wording and naming. Using consistent language so that assignments or units are named the same in the syllabus, on the course schedule, and on Blackboard limits confusion about which assignments are due or where they are located.