Carin

 

Denise

 

Silkaitis

, M.F.A.
Dean of Arts and Sciences

 
Arts and Sciences
Juneau Campus: Soboleff Bldg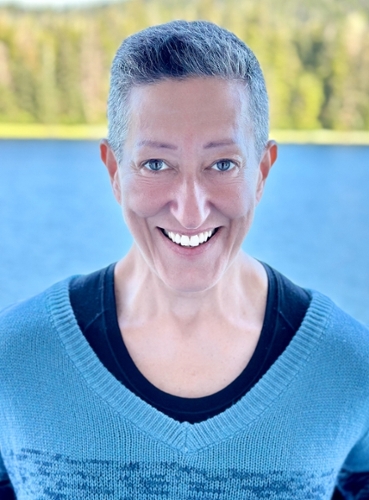 Education:
M.F.A Theatre Performance, Roosevelt University (1999)
B.A. Psychology, Indiana University (1993)
Research:
Embodied Dramaturgy, Moment Work, Devising, Gender & Sexuality Studies
Publications:
Silkaitis C. Chicago Dramaworks. The Taming of the Shrew (Adaptation), ISBN: 978-0692343746
Tales of Berlin, Co-Written/Devised with their cast at Columbia College Chicago, Premiere: April 2021, Chicago IL.
Silkaitis C, Renaud B, Other Letters. 2021 West Coast Premiere – Theatre Rhinoceros, San Francisco, CA (live-streamed) 2019 East Coast Premiere – Town & Country Players, Buckingham PA, 2016 Chicago Premiere – Other Theatre Company, Chicago, IL.
Canon Fire, Co-Written/Devised with cast at North Central College, Premiere: Naperville IL.
Affiliations:
SAG/AFTRA (Screen Actors Guild/American Federation of Television and Radio Artists)
AEA (Actors Equity Association)
ATHE (Association for Theatre in Higher Education)
ATIXA (Association of Title IX Administrators)
TIE (Theatrical Intimacy Educators)
PTO (Pedagogy and Theatre of the Oppressed)
Consortium of Higher Education LGBT Resource Professionals
ACAD (American Conference of Academic Deans)
Courses Taught:
Sex Gender & Sexuality
Shakespeare
Theatre History I & II
Acting Across Cultures
Voice and Movement
First-Year Seminar
Acting on Camera
Contemporary Acting
Classical Acting
Period Styles
Greek Theatre: Past, Present & Future
Opera Scene Study
Opera Role Prep/Interpretation
Musical Theatre Scene Study
The 1950's in America: A Look Back (Freshman Seminar)
English Seminar
Biography:
Carin Silkaitis is the Dean of Arts & Sciences at the University of Alaska Southeast and a Professor of Humanities. Prior to that appointment, Carin served the faculty and students at Columbia College Chicago as the Allen and Lynn Turner Chair of the Theatre Department, a Professor of Theatre, and a Faculty Fellow serving on the College's Antiracism Transformation Team.
Additionally, Carin served as Department Chair of both Art and Theatre at North Central College in Naperville, Illinois for 7 years, and served as a faculty member at this institution for a total of 17 years, tackling the roles of Head of Acting, Theatre Program Coordinator, Title IX Investigator, and Lead Trainer for Green Dot - a bystander training technique that eradicates power-based personal violence.
Their teaching has been focused in two departments: Theatre and Gender and Sexuality Studies. Their favorite courses to teach are: Acting on Camera, Realism & Naturalism, Acting Across Cultures (Study Abroad), and Sex, Gender & Sexuality.
Carin spent 20+ years as a working actor from Chicago, with many of those years represented by the wonderful folks at Gray Talent Group. They are a proud member of AEA and SAG/AFTRA. Carin's notable TV/Film credits include: Co-Star on EMPIRE (FOX), CHICAGO FIRE (NBC) & THE RED LINE (CBS), Nurse in the SAG Feature UNEXPECTED (currently on Netflix), and Joy in the award-winning short BEING HERE (winner - Best Supporting Performer, Berkshire Short Film Fest). Notable theatre credits include: Mama in A SHAYNA MAIDEL (TimeLine Theatre Co), Mother/Defense Attorney in MACHINAL and Me in I DO TODAY (Greenhouse Theater Center), Chloe in LIPS TOGETHER, TEETH APART (Eclipse Theatre), Doctor Manor in SONS OF THE PROPHET and Mama/Sherry/Vera u/s (American Theatre Company), Queen Margaret in RICHARD III (Oak Park Festival Theatre), Dean Wreen in SEVEN HOMELESS MAMMOTHS WANDER NEW ENGLAND (Theater Wit), and Izzy in RABBIT HOLE (u/s Goodman Theatre). Some of their favorite directing credits include: LA BOHEME, LA TRAVIATA, and MADAMA BUTTERFLY (Music By The Lake). They recently directed the world premiere of THROUGH THE ELEVATED LINE at Silk Road Rising which was nominated for a 2018 Jeff Award for Best New Work. At the college level - a few of their favorite's include: THE LARAMIE PROJECT, ENVOY, PHEDRE, THE FLICK, 4.48 PSYCHOSIS, and SPRING AWAKENING. Carin has also appeared in numerous commercials and industrials, and they have lent their talents to many voiceovers and print gigs.
Carin is a graduate of the School at Steppenwolf, and they received their M.F.A in Acting from the Theatre Conservatory at Roosevelt University. They also enjoy scuba diving and snorkeling, as well as camping and traveling with their wife and two children.
Hours:
By Appointment via Amy Bannerman (aebannerman@alaska.edu)