UAS Juneau Campus
UAS operates from two locations in Juneau—Auke Bay and downtown Juneau.
The main UAS campus is located in Auke Bay, 12 miles from downtown Juneau. Housing, campus services, the library, and most classrooms are located in Auke Bay.
The Technical Education Center in downtown Juneau houses the UAS School of Career Educations, offering health care, construction, welding, mining, and power technology programs.
Juneau Campus Information
Studying on the Juneau Campus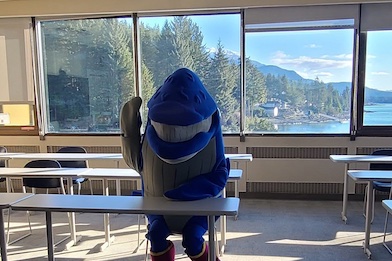 Classrooms and Facilities
UAS standard classrooms are located in the Egan Wing, Whitehead, REC Center, and Soboleff Buildings. Specialized classrooms in the Anderson Building house labs for biology, marine biology, and environmental science. The Technical Education Center in downtown Juneau houses classrooms outfitted for health care, construction, power technology, and mining.
Learn more about Technology available in our Juneau Classrooms
Library, Learning, Testing, and Writing Centers
Egan Library provides academic collections, technology, research support, and comfortable spaces for study and collaboration. Within the library are the Learning, Testing, and Writing Centers, which offer tutoring in multiple subjects, test proctoring, and writing support for students.
Health & Wellbeing
Fitness, Gear & Facility Rentals, Intramural Sports
Campus recreation offers diverse recreational programs that promote and facilitate physical fitness and an active student life, whether indoors or out.
Student Resource Center
Disability Services, Counseling, Health Services, Peer advising
The Student Resource Center (SRC) is an integral part of Student Affairs at the University of Alaska Southeast. It is the first stop for current and former UAS students seeking information and assistance. The staff of the SRC foster student success by providing services and resources that enable students to meet their academic, personal, professional, and emotional needs. 
What's Happening on the Juneau Campus
About Juneau
Juneau is the state capital and the largest city in southeastern Alaska. The city offers a flourishing downtown business and arts scene, an extensive library system, and public transportation. As Alaska's capital, Juneau sits at the epicenter of Alaska's governmental and economic affairs. Visit Choose Juneau and Travel Juneau to learn more.
​