Health Information Management
Preparing students for a fast-paced, high-paying, in-demand field. A career as a health information professional offers the chance to blend an interest in medicine with the multifaceted information management challenges of tomorrow.
Overview & Program Outcomes
Health Information Management Program
Health care costs and the necessity to enhance the management of health care delivery systems have created an explosion in the demand for health care information specialists – people with the knowledge and skills necessary to process, analyze, and distribute health care information in diverse practice environments. By studying health information, students will acquire a versatile yet focused skill set incorporating clinical, information technology, leadership, and management skills. Health information professionals use their knowledge of information technology and records management to form the link between clinicians, administrators, technology designers, and information technology professionals.
UAS Sitka's Health Information Management program prepares students for a fast-paced, high-paying, in-demand field. A career as a health information professional offers the chance to blend an interest in medicine with the multifaceted information management challenges of tomorrow. UAS Sitka provides an opportunity to gain knowledge and skills in health information technology, coding, or privacy and security. Courses taken for earning an occupational endorsement or certificate are applicable to the A.A.S. degree. 
The Health Information Management (HIM) Associate of Applied Science (A.A.S.) at UAS is the only Alaska program accredited by the Commission on Accreditation for Health Informatics and Information Management Education (CAHIIM).
For more information about the program, read the HIM Student Handbook.  It includes information such as the HIM team members, program accreditation, program mission, program degrees/certificates, course offerings, and other topics you may find helpful.
Program Outcomes
Knowledge skills and abilities fundamental to the HIM profession.
Critical thinking and communication skills.
Demonstrate ethical, professional and legal standards of conduct for the HIM environment.
For the period of August 1, 2021 – July 31, 2022, the program had a 100% pass rate for the RHIT examination.
Five of the fourteen graduates surveyed for the 2022/2023 reporting year were highly satisfied with the overall HIM AAS degree program. Nine of the students did not respond to the survey.

Surveys for 2023/2024 will be sent in June 2024.

There were 35 students enrolled in the HIM program for AY 2022/2023. There were 42 students in the program in AY 2021/2022.
Two students graduated from the HIM program in AY 2022/2023; this is a rate of 5.71% of our HIM students using 2022/2023 enrollment numbers.
UAS had two students graduate from the AAS-HIM Program in AY 2022/2023 both students have full-time jobs in the medical field, and one student is continuing their education. The percentage of graduates that have gained employment is 100% (2/2).
The typical HIM student at UAS is part-time and takes longer than 2 years to complete the AAS.
HIM Program Mission Statement
The HIM Program at UAS provides students with knowledge, skills and ability to prepare to enter the HIM profession. The HIM Program at UAS will provide a high quality education in health information management and technologies while encouraging lifelong learning and ethical behavior. The HIM Program will meet the standards established by AHIMA at the associate degree level.
Accredited by CAHIIM
The Health Information Management accreditor of The University of Alaska Southeast is the Commission on Accreditation for Health Informatics and Information Management Education (CAHIIM). The College's accreditation for Associates of Applied Science in Health Information Management has been reaffirmed through 2029-2030.
All inquiries about the program's accreditation status should be directed to:
CAHIIM
200 East Randolph Street Suite 5100
Chicago, IL 60601
Phone: 312-235-3255
Email: info@cahiim.org
Website URL:
http://www.cahiim.org/
FAQ
If you have an interest in healthcare and information technology, health information management (HIM) may be the right career choice for you. As one of the fastest growing occupations in one of the fastest growing industries, an HIM career places you right where the expanding arena of healthcare meets the cutting edge of technology.  HIM professionals are experts in the field of patient health information and medical records. HIM professional duties can include operating computer information systems, coding diagnoses and procedures for reimbursement, maintaining quality control of health records, and more. These professionals are also the caretakers and guardians of personal health information—ensuring that confidential patient information is secure and released only according to strict state and federal laws.
Health information technicians (HIT), also called medical records technicians, are responsible for gathering, organizing and updating patients' medical records. This is a very important job, as physicians and other healthcare workers rely on patient information.
The Health Information Technology Program offers preparation for a technical area of service in hospitals, clinics, and related health facilities, and agencies. Graduates are prepared to serve as entry level health information technicians. The health information technician performs technical duties vital to the operation of a health information record department in any health care facility.
Registered Health Information Technician (RHIT)
RHITs are health information technicians who ensure the quality of medical records by verifying their completeness, accuracy, and proper entry into computer systems. They may also use computer applications to assemble and analyze patient data for the purpose of improving patient care or controlling costs. RHITs often specialize in coding diagnoses and procedures in patient records for reimbursement and research. RHITs may serve as cancer registrars, compiling and maintaining data on cancer patients. With experience, the RHIT credential holds solid potential for advancement to management positions, especially if it is combined with a bachelor's degree.
Although most RHITs work in hospitals, you will also find them in a variety of other healthcare settings including office-based physician practices, nursing homes, home health agencies, mental health facilities, and public health agencies. In fact employment opportunities exist for RHITs in any organization that uses patient data or health information such as pharmaceutical companies, law and insurance firms, and health product vendors
Certified Coding Associate (CCA)
CCA's are entry level coding associates who demonstrate professional competency and a high level of commitment to health information management. CCA's work with medical records to ensure accuracy, completeness, and proper entry into computer systems. CCA's work in a variety of healthcare facilities throughout the country, including hospitals, physician offices, nursing homes, home health agencies, mental health facilities, and public health agencies. Employment opportunities exist in all areas of healthcare where patient health records are used.
Students without prior college are encouraged to take some general education requirements prior to enrolling in HIM specific courses. Specifically, students are encouraged to take college level English and a computer course either before or concurrently with HIM courses. Prior to enrolling in any HIM courses, students should have an advising interview with the program director (this can be done online or by telephone) so that a degree plan can be developed collaboratively.
Applicants should be aware that professional practices are part of HIM courses, and transportation to various health agencies for these experiences is the responsibility of the student. The University is self-insured and enrolled students are covered by professional liability insurance.
Employment opportunities abound for health information professionals. While many practitioners currently work in hospital settings, expanding opportunities for employment include those in ambulatory, long term, behavioral health facilities, industrial clinics, state and federal agencies, private industry, and educational facilities.
The Health Information Management program at the University of Alaska Southeast will prepare graduates for employment as health information specialists. The field has been identified as one of the top ten growth careers for the next decade by the Department of Labor. Graduates have a wide variety of possibilities in both type and location of employment, with career opportunities throughout the nation and internationally.
Faculty & Staff
Terissia Bell, CIC, COC, CPC, RHIA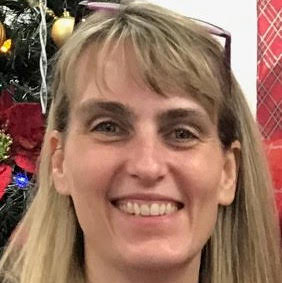 Assistant Professor and Program Director
View profile and contact info
​