Sustainability Committee
Committee Mandate
The Sustainability Committee seeks to promote conservation practices and the wise use of resources at UAS. The committee makes recommendations to guide campus sustainability policies, advocates for these sustainability initiatives, and communicates the committee's activities to each member's respective departments.
What is Sustainability?
Sustainability is a challenging concept to define. One of the more familiar definitions comes from the United Nations Brundtland commission: "sustainable development is development that meets the needs of the present without compromising the ability of future generations to meet their own needs." Similarly, the Environmental Protection Agency states: "Everything that we need for our survival and well-being depends, either directly or indirectly, on our natural environment. To pursue sustainability is to create and maintain the conditions under which humans and nature can exist in productive harmony to support present and future generations." The Association for the Advancement of Sustainability in Higher Education adopts a broader definition, defining sustainability "in an inclusive way, encompassing human and ecological health, social justice, secure livelihoods, and a better world for all generations."
What does sustainability mean to committee members?
Reflecting the range of ideas and understandings of sustainability, when asked about the principles of sustainability, committee members suggested sustainability also includes:
fairness and equity
conservation of resources for the future
maintenance of life sustaining functions and resources
a holistic approach
leaving things better off for the next generation
contextual, integrative, and long-term planning
critical thinking which allows people to understand the consequences of their actions.
reduction in violence and warfare
thinking globally and acting locally
Recent Committee Activity
Members and guests of the committee contribute articles to a monthly column at the Juneau Empire. The series is called "Sustainable Alaska"
Organization of free screenings of films and brings in guest speakers.
Writing of letters of support for various local and regional sustainability-related initiatives.
Leading teach-ins and presentations at university events such as the Power and Privilege symposium.
Advocating for campus projects such as recycling, energy efficiency, and waste reduction.
Promotion of a campus carbon-reduction and offset program
Linking efforts with student-led Sustainability Club
American Campus Act on Climate Pledge
In Fall 2015, UAS joined over 200 colleges and universities in signing the American Campus Act on Climate Change Pledge to demonstrate support for strong international climate action prior to the United Nations Climate Negotiations in Paris. Chancellor Rick Caulfield's Statement on Environmental Sustainability and Stewardship can be found here.
2014 STARS Report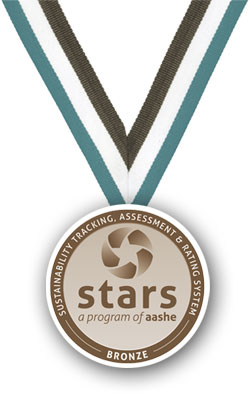 In 2014, UAS completed a year-long sustainability audit with the Association for the Advancement of Sustainability in Higher Education (AASHE) Sustainability Tracking, Assessment and Rating System (STARS) program, earning a Bronze rating. This places UAS on par with UAA in terms of sustainable practices.
For more information about the AASHE STARS program, see the AASCHE web site.
Sustainability Research & Education
In the Spring of 2013, the Sustainability Committee adopted definitions of "sustainability research," "sustainability-focused courses," and "sustainability-related courses" at UAS.
Sustainability research explores sustainability-related social, economic, cultural, and environmental variables; or examines an issue or topic using sustainability as a lens.
Sustainability-focused courses concentrate on the concept of sustainability including it's social, economic, cultural, and environmental dimensions; or examine an issue or topic using sustainability as a lense.
Sustainability-related courses incorporate sustainability as a distinct course component or module, or concentrate on a single sustainability principle or issue.
The goal of sustainability education is to provide students, regardless of their course of study, the knowledge and skills to help create a healthy economy, society, and environment.
In order to determine wheather or not a course has this goal in mind, it is useful to ask whether or not a given course will help students to achieve one or more of the following:
Understand and be able to effectively communicate the concept of sustainability.
Develop and use an ethical perspective in which they view themselves as embedded in the fabric of an interconnected world.
Become aware of and explore the connections between their chosen course of study and sustainability.
Develop technical skills or expertise necessary to implement sustainable solutions.
Understand the way in which sustainable thinking and decision-making contributes to the process of creating solutions for current and emerging social, environmental, and economic crises.
Contribute practical solutions to real-world sustainability challenges.
Synthesize understanding of social, economic, and environmental systems and reason holistically.
Contribute to the understanding of cultural sustainability through practice or investigation of Alaska's cultures.
A course does not have to accomplish all of these things to be designated as sustainability-related or sustainability-focused.
Committee Members
The UAS Sustainability Committee is a Faculty Senate Committee comprised of a rotating membership representing natural sciences, social sciences, humanities, education, and public administration. Representatives from Facility Services, the Student Sustainability Club, and the university administration attend the meetings. Meetings are scheduled by the Committee chair and held several times a term.