Mathematics
UAS is a small school in a remarkable environment
The mission of the Mathematics Program is to provide our students with an enjoyable and rewarding academic experience through excellent mathematics instruction and guidance.
Key Features
Flexibility
The flexibility of the mathematics/statistics electives, the capstone project, and the available elective credits in the mathematics BS degree make it possible for students to pursue any one of a variety of pathways.
Graduate studies in the mathematical sciences.
Graduate studies in teacher education.
Preparation for an engineering degree.
Applications to the physical, earth, or environmental sciences.
Applications to the biological/life sciences and ecology.
Applications to the social sciences, business, or economics.
With additional coursework, a mathematics major may earn one or more minors, a double major (two BS degrees), or a second non-science degree (a BA or BBA).
Undergraduate Research Capstone Projects
Working closely with a faculty mentor, upper-division math majors explore their interests in the mathematical sciences through an individualized capstone research project.
"I didn't start out as a math major, but now it's hard to imagine what it would be like to have not studied math." — Amy Jenson, BS Mathematics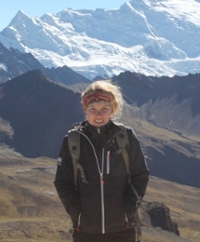 News
Intercollegiate Biomathematics Alliance
Since UAS is an IBA Institutional Member, UAS students may earn credit toward an IBA Graduate Certificate in Biomathematics while pursuing their undergraduate degrees. Check out the Intercollegiate Biomathematics Alliance page (link given in the sidebar to the left) on this website for more information, and contact Chris Hay-Jahans if you have questions - email: cnhayjahans@alaska.edu, tel: (907) 796-6408.
Newsletters
Topics:
AY 2023 Graduates
Continuing Majors
UAS Math Club and Alaska Chapter of Pi Mu Epsilon
News of Some Past Graduates
Faculty News
View newsletter
Recent Newsletter Archive
Clubs
Math Club
Any UAS student is welcome to join the UAS Math Club. The faculty adviser of the Math Club (and the Alaska Alpha Chapter of PME) is Andrzej Piotrowski. Individuals interested in giving a talk at one of the frequent Math Club meetings are always appreciated, and community members wishing to attend any such talk are very welcome. To find out about activities of this club, click on Math Club Activities, or contact Andrzej at apiotrowski@alaska.edu.
Pi Mu Epsilon
Pi Mu Epsilon is a non-secret Honor Society dedicated to the promotion of mathematics and recognition of students who successfully pursue mathematical understanding. A UAS student meeting the following qualifications may be elected to membership by the Alaska Alpha Chapter.
Undergraduate students who have completed at least the equivalent of two semesters of calculus and two additional courses in mathematics, at or above the calculus level, all of which lead to the fulfillment of the requirements for a major in the mathematical sciences. In addition, such students must have maintained a grade point average equivalent to that of at least 3.0 on a 4 point scale, both for all courses that lead to the fulfillment of requirements for a major in the mathematical sciences and also for all courses that lead to the fulfillment of requirements for an undergraduate degree.
This election shall be irrespective of sex, religion, race, or national origin.