Education Programs
The School of Education offers programs designed to meet the needs of those preparing to become teachers and those who are already in the profession. We have a strong tradition for preparing educators and principals of excellence who demonstrate a commitment to enhancing the lives of students.
CAEP is the sole nationally recognized accrediting body for educator preparation. CAEP accreditation signifies that the SOE has met the rigorous standards set forth for educator preparation.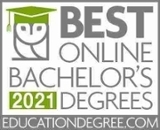 ​
Initial Teacher Preparation
Begin your teaching career.
Our programs prepare you for the classroom and lead to a recommendation for an Initial Teaching Certificate.
Advanced Programs
Extend and develop your skills and abilities.
For the practicing educator; you must have a Bachelor of Education or equivalent or a current teaching certificate.