Covid-19 Office Operations
Our offices are available for phone or video appointments. Email or call for more information. For information, please visit the UA coronavirus information website.
These Steps will lead you through the process of becoming enrolled at UAS and activating your benefits.
Step 1:  Apply for Educational Benefits with Veteran's Affairs (Active Duty/Reserve Military - contact your Educational Services Officer)
a. Apply for education benefits with Veteran's Affairs. To start your VA benefits, you'll need to apply via va.gov.  Direct Deposit is recommended during the va.gov application. 
b. Active Duty/Reserve Military - please contact your Educational Services Officer (ESO) within your Military Service prior to enrolling at UAS.
Step 2:  Apply for Admission
a. Students who wish to be enrolled at UAS must apply through our admissions website which will allow you to apply to any school within the University of Alaska system.  Choose University of Alaska Southeast.  Ensure that you indicate your status as a Veteran to take advantage of Veteran Privileges. 
b. The VA requires that students actively pursue a degree to utilize VA educational benefits. We are only able to certify a student as non-matriculated (undeclared/bachelor intended) or pending final admission in the university for 2 semesters. Call (907)796-6368 to speak with the VA School Certifying Official Deborah Rydman about which degree programs may be most appropriate for your benefits.
c. Choose "Apply for Admissions" and create a temporary Login ID and PIN.
d. Pay application fee.
e. Send either official high school transcripts/GED or official college transcripts from ALL colleges attended.  Questions?  Speak with an Admissions Representative about special considerations for submitting military transcripts.
Step 3: Financial Aid
a. Fill out the FAFSA (Free Application for Federal Student Aid).  UAS School Code:  001065. Filling out the FAFSA could secure extra funds in addition to your GI Bill®.
b. Complete and submit Request to Begin VA Benefits form.
If you have any questions regarding financial aid, visit the Financial Aid Office or call 907-796-6255
Step 4:  On-Campus Housing (if applicable)
a. Apply for housing. Call 907-796-6443 to speak with a Housing Representative.
b. Fill out the housing forms.
c. Pay security deposit.
Step 5:  Complete English and Math Placement Tests
a. These tests will determine the level of English and Math classes you can register for. Tests are available through the Learning Center.
Call 907-796-6000 to speak with a Peer Advisor about review resources or transfer credit applicability before taking your tests
Step 6:  Meet with your Advisor
a. To find out who your advisor is, contact the Student Resource Center (SRC) at 907-796-6000 or toll free at 877-465-4827.
b. Inform your advisor of intent to use VA benefits to ensure your chosen courses are eligible.
c. If you need accommodations for your classes, make an appointment with Disability Services at 907-796-6000.
Step 7:  Register for Classes
a. View the course schedule at UAOnline.  Click on "Class Schedule" at the main menu.
b.  Use DegreeWorks to verify if your classes align with your degree program.
c.  Post 9/11 - If you are planning on taking classes that are less than the full semester, use the Schedule Planner to help you view the changes in the number of credits you're enrolled in throughout the semester, as this will have an affect on the amount of your housing allowance.
d. Register for classes by following the instructions online, Step 3: Register or in person at any of the UAS campuses.
Step 8:  Notify School Certifying Official
a. After registering for classes, contact Deborah Rydman, UAS School Certifying Official.
Step 9:  UAS Whale Card
a. Contact UAS Student Accounts to obtain your UAS Whale Card.  
Step 10:  Purchase your Books
a. A book stipend will be issued directly to VA students (Post 9/11) or as part of the monthly stipend (Montgomery GI Bill®). Textbooks for all Juneau, Ketchikan and Sitka classes are listed on a website linked to MBS Direct for on-line purchasing. Students may purchase books from MBS Direct, or their preferred provider.
Step 11:  Set up your Username and Password
a. To set up your username and passwords for the online programs you'll need to access while a student, go to uas.alaska.edu/elmo.
b. After setting up your username and password, you'll be able to sign into UAS Online and your UAS student email account.  Both are used extensively by professors in communicating course information to students enrolled in their classes.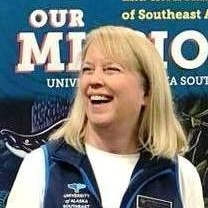 'VA School Certifying Official Deborah Rydman has the authority to review all paperwork necessary to certify the enrollment and any changes in enrollment for students who are eligible for VA educational benefits. She also acts as a point of contact for Tuition Assistance (TA), Department of Education Title IV funding, academic and financial aid counseling, and student support services (disability counseling, job search assistance). '
UAS VA Certifying Official